Maia Foley-Weintraub's 5-year-old son had to spend the night at daycare because she was stuck in snow-stalled traffic for nine hours. In a moment of panic during that time, her van slid down an icy hill, forcing her to use the emergency brake.
It took her until 2 a.m. Thursday to make it home safely.
"People were just spinning out and getting stuck left and right," she said. "It was just one thing after another. I did not have any idea that that was going to turn out the way it did."
The snow began to melt later in the day but as temperatures dropped and night fell, roads became slick with black ice.

Tweet This
Portions of Interstate 80 in California and Wyoming were closed because of impassable conditions. That included about a 70-mile stretch over the top of the Sierra Nevada linking California and Nevada.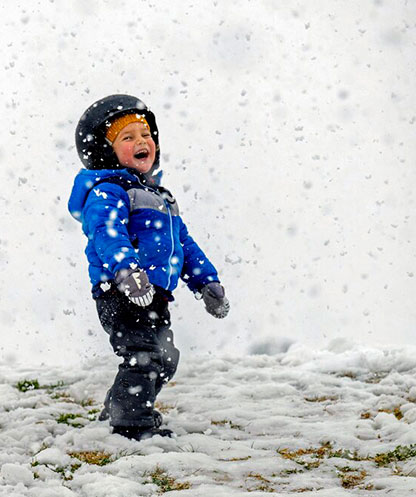 The weather also knocked out power to nearly 1 million homes and businesses in multiple states and closed dozens of schools. Weather also contributed to airport snarls. At one point on Thursday, more 2,000 flights were grounded and nearly 14,000 were delayed across the country, according to the tracking service FlightAware.com.
Widespread power outages were reported in Michigan, Illinois, California, New York and Wisconsin, according to the website PowerOutage.us.
The largest outages by far were in Michigan, where at one point more than 820,000 customers were without electricity, mostly in the state's southeast corner. Some 3,000 power lines were knocked down after being coated with ice as much as three-quarters of an inch thick and crews were struggling to get the juice back by the end of Sunday, utilities said.
"Utilities across the country fear ice storms like we fear nothing else," said Trevor Lauer, president of DTE Electric. "We've not had an ice storm in the last 50 years that has impacted our infrastructure like this."
A Michigan firefighter died Wednesday after coming in contact with a downed power line in the village of Paw Paw, authorities said.
Winter storm warnings remained in effect in northern Michigan and parts of New England could see sleet, snow and freezing rain as a cold front stretched from the eastern Great Lakes to East Texas, the National Weather Service's Weather Prediction Center said.