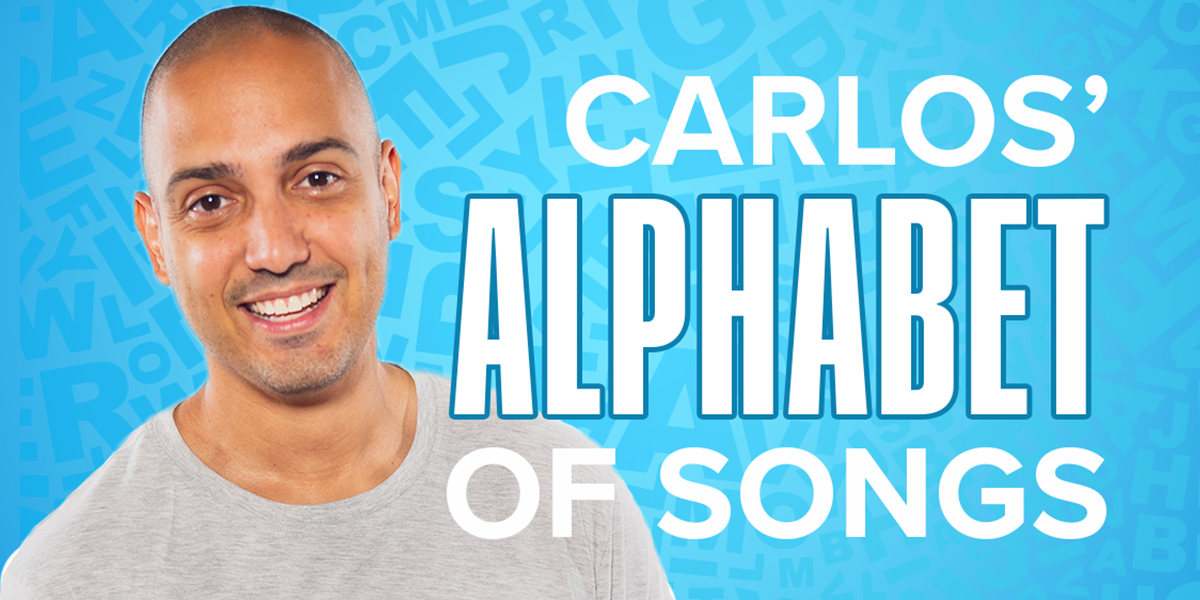 It might be elementary, but Carlos — K-LOVE's newest DJ — invited listeners to help him craft an epic list of songs…in alphabetical order. Fans cast their vote for each letter, carefully putting together a list of their favorite Christian songs from A-Z. (Well, 'X,' 'Y' and 'Z' got combined for obvious reasons — but you get the picture! Can you think of a song that begins with 'X' or 'Z'?!) From old hymns to the latest hits ascending the charts, song requests poured in from all across the country letter by letter as listeners called and wrote in contending for their top choices. In the end, K-LOVE listeners came up with the ultimate ABCs from their favorite Christian artists. Once the results were in, Zach Williams and Casting Crowns tied with three entries respectively. Meanwhile, MercyMe and Elevation Worship each made two appearances. In addition, listeners chose one Christmas song and a parody that will forever define 2020. So, without further ado, here's Carlos' official Alphabet of Songs, hand-picked by K-LOVE listeners, starting with the letter 'A.'
A
"Amazing Grace"
Our list begins with perhaps the most well-known hymn in the church canon. "Amazing Grace" was written by John Newton, a former British slave trader, who, after a radical conversion experience, picked up the abolitionist cause. The song is sung in countless churches around the globe each week and has been recorded by an astounding variety of artists spanning genres, including Elvis, Johnny Cash, Willie Nelson, Ray Charles, Judy Collins and Aretha Franklin, among many, many others. In 2006, Chris Tomlin modernized the iconic hymn, adding his now familiar "My Chains Are Gone" refrain.
---
B
"Because He Lives"
"Because He Lives" was written by two of Gospel music's most prolific songwriters, Bill and Gloria Gaither. The popular hymn was first released in 1971. Gloria penned the lyrics while pregnant with the couple's third child. In fact, in a moment where art truly imitates life, the song's second verse even references holding a newborn. Worried about bringing another child into a world full of unrest and division and concerned with the health of her husband, who was recovering from a bout with mono at the time, Gloria found comfort in her own lyrics: "Because He lives, I can face tomorrow. Because He lives, all fear is gone." Like "Amazing Grace," "Because He Lives" has been recorded by a number of artists. In 2015, however, the song inspired Matt Maher to reimagine the hymn into a worship chorus that is widely sung. The Gaithers' original rendition garnered a Dove Award for Song of the Year in 1974. Forty-one years later, Maher's version won Worship Song of the Year at the 2015 Dove Awards.
---
C
"Chain Breaker"
"Chain Breaker" was Christian music's introduction to Zach Williams. The song is essentially his backstory. Enslaved by addiction and other dangerous habits, Williams — then the lead singer of a mainstream rock band — hit rock bottom before encountering the love of Jesus through, ironically, Christian radio and a Big Daddy Weave song. He dramatically turned his life around and poured all his energy, passion and newfound faith into crafting music that glorifies God. He literally wrote his experience into the lines of "Chain Breaker," which went on to break records with its lengthy stay at No. 1. Additionally, the song earned the Arkansas native his first GRAMMY® nomination. "It was the song that got me through a two-year prison sentence," shared K-LOVE listener Marcus after casting his vote for the Zach Williams hit. "During that time, I gave my life to the Lord and have been living for Him ever since. I'll never go back to jail or who I once was while behind bars."
RELATED CONTENT: Survivor: Zach Williams Recounts His Rescue Story & How a Big Daddy Weave Song Changed His Life
---
D
"Do It Again"
"Do It Again" was inspired by a sermon preached by Elevation Church pastor Steven Furtick as he shared the story of Joshua and his army marching around Jericho seven times. Together with Matt Redman, Mack Brock and Chris Brown, Furtick penned the single, which appears on Elevation Worship's album, "There Is A Cloud." The premise of the song is a reminder to look to God's faithfulness in the past as a prediction of His faithfulness in the future. "Do It Again" has become a powerful declaration of belief in the face of dead dreams, unanswered prayers and painful disappointment as it proclaims, "Your promise still stands, great is Your faithfulness."
---
E
"Even If"
MercyMe frontman Bart Millard initially wrote "Even If" out of frustration with his son's ongoing struggle with diabetes. After years of praying for healing, Millard's son continues to battle the chronic illness. In the song, he pledges his allegiance to Christ even if prayers aren't answered in the way he would like or even if circumstances never change. The powerful anthem became a personal anchor for millions of listeners who first encountered the track on MercyMe's 2017 effort, "Lifer." While few songs can live up to "I Can Only Imagine" standards, "Even If" runs a close second with its raw lyrical vulnerability and soaring vocal performance.
---
F
"Fear Is a Liar"
Zach Williams reemerges on our list with his third career radio single. Following pop-heavy offerings "Chain Breaker" and "Old Church Choir," Williams slowed it down and served up a ballad from his acclaimed debut that revealed both his lyrical prowess and his vocal abilities. We're all guilty of believing the lies Satan whispers in our ear, but "Fear Is a Liar" serves as a powerful mantra of truth. At a time when the topic of mental health has never been talked about more openly, it's no wonder the message of this song continues to resonate with so many.
---
G
"Graves Into Gardens"
With a major assist from Brandon Lake, Elevation Worship's "Graves Into Gardens" became one of many anchor anthems to emerge from 2020. In a year when people around the world needed to see the beauty in pain and were desperate for God to resurrect their dreams, "Graves Into Gardens" gave voice to countless listeners aching for hope. The song quickly became one of Elevation Worship's most-sung singles and introduced audiences to Lake, who was — at the time — a relatively unknown artist. Moreover, it became the title-cut of the collective's 2020 full-length project, which also included the original version of "The Blessing" and follow-up hit "RATTLE!"
RELATED CONTENT: Elevation Worship's "Graves Into Gardens" Testifies to the Resurrection Power of God
---
H
"How Great Thou Art"
The third and final hymn to make our list, "How Great Thou Art," took a long and winding road to become the well-loved song it is today. Initially written as a poem by Swedish editor Carl Boberg, rudimentary lyrics to what we now know as "How Great Thou Art" were published in a newspaper before being translated into German and Russian. After it was finally translated into English in 1925, a missionary in Ukraine brought it back to the U.S. where a music publisher picked it up and started pitching it. Eventually, George Beverly Shea introduced the hymn to the masses at Billy Graham crusades in the late '50s. Tennessee Ernie Ford, Loretta Lynn and Elvis all recorded versions of the song. Carrie Underwood first lent her unmatched vocals to the standard in 2011 as part of a special Gospel project for the Grand Ole Opry, with Vince Gill accompanying on guitar. Then, the country superstar revisited the favorite hymn on her own Gospel project, "My Savior," in 2021.
---
I
"I Can Only Imagine"
One of the biggest songs in Christian music history, "I Can Only Imagine" was MercyMe's second career radio single from their label debut, "Almost There." The massive smash became the most-played song of 2002 and crossed over to Top 40 radio, receiving major mainstream airplay the following year. The song literally jumpstarted the band's career, and while they've amassed 47 additional chart-toppers since their signature hit secured the No. 1 spot for multiple weeks, "I Can Only Imagine" remains MercyMe's seminal release. Frontman Bart Millard famously penned the tear-inducing ballad in the wake of his father's emotional passing. The story behind the five-time Platinum song was turned into a blockbuster film in 2018, reintroducing "I Can Only Imagine" and Millard's personal narrative to an eager audience hungry for stories of redemption.
RELATED CONTENT: Almost There: MercyMe's Debut Record Featuring Hit Single "I Can Only Imagine" Turns 20 Years Old
---
J
"Jireh"
Seemingly out of nowhere, Maverick City Music swept onto the Christian music scene. The diverse collective of songwriters and artists penned "Jireh" alongside Elevation Worship. Both teams recorded the intimate ballad for landmark collaborative release, "Old Church Basement." The song and the album were both nominated for GRAMMY® Awards with the group taking home their inaugural win for the LP. With lead vocals from Chandler David Moore and Naomi Raine, "Jireh" has quickly become one of Maverick City Music's most well-known songs. Lifting high the name of God that means "provider," "Jireh" exalts contentment in all circumstances. The award-winning group showcased the moving anthem of praise at the GRAMMYs® in early 2022, becoming the first Contemporary Christian act to perform on the awards show broadcast in more than two decades.
---
K
"Keep Me In The Moment"
Jeremy Camp's family-centric pop anthem, "Keep Me In The Moment," appears on 2019's "The Story's Not Over." The song became Camp's 41st No. 1 hit. With a plea to be present and a prompt to keep our focus on what truly matters, "Keep Me In The Moment" finds the father of three at the center of his wheelhouse — writing from personal experience in real time and delivering a vocal performance that's as pristine on tape as it is live in concert. Quickly becoming a fan favorite, "Keep Me In The Moment" hails from the same album as fellow hits "Dead Man Walking" and "Out of My Hands."
---
L
"Love Me Like I Am"
for KING & COUNTRY have a plethora of hits to choose from, but their latest single makes the Alphabet of Songs list at 'L.' "Love Me Like I Am" first appeared on the duo's fourth studio album, "What Are We Waiting For?" Brothers Joel and Luke Smallbone added pop/R&B songstress Jordin Sparks to the mix in 2022 for a standalone single that elevated the song to new heights. A standout moment in their live show, "Love Me Like I Am" speaks to unconditional acceptance and affection from those we love and a God who loves us regardless of our mistakes.
RELATED CONTENT: for KING & COUNTRY Recruits "American Idol" Alum Jordin Sparks for "Love Me Like I Am"
---
M
"Mary, Did You Know?"
The letter 'M' welcomes the lone Christmas song to our list. With its haunting melody and poignant lyrics, "Mary, Did You Know?" has become a modern-day carol. Recorded by a diverse cast of artists that spans from Kenny Rogers to Pentatonix, "Mary, Did You Know?" was actually written by Southern Gospel guitar player Buddy Greene and Christian funnyman Mark Lowry. The duo's ode to Jesus' mother poses the questions we all long to ask: "Mary, did you know…that your baby boy has come to make you new? This child that you delivered, will soon deliver you." Danny Gokey's passionate version can be found on his first holiday album, "Christmas Is Here."
---
N
"Nobody"
"Nobody" received more votes than any other song on this list. It's appropriate that Matthew West is featured on the Casting Crowns-led hit since he co-wrote the track with Crowns frontman Mark Hall and award-winning songwriter/producer Bernie Herms, who happens to be married to Natalie Grant. Found on Casting Crowns' "Only Jesus" album, "Nobody" testifies to the fact that God always uses the under-qualified to accomplish His purposes. The beloved band and West both appear in the song's official music video. In addition, both acts toured together in support of Casting Crowns' project, ending each concert with a show-stopping performance of the popular anthem.
---
O
"Overcomer"
Inspired by her friend, Keisha, who valiantly fought breast cancer, "Overcomer" served as the title-track for Mandisa's fourth studio record. The "American Idol" alum performed the song on national television for the first time on "Good Morning America," who then used "Overcomer" as a theme song for a regular series on the top-rated morning show that showcased inspirational stories. Moreover, "Overcomer" earned Mandisa a GRAMMY®, as well as Billboard Music Award and GMA Dove Award nods in 2014. The chart-topping, fist-pumping Platinum hit remains one of Mandisa's most well-known songs today.
---
P
"Perfectly Loved"
Following a nearly two-decade hiatus, singer/songwriter Rachael Lampa returned with this surprise hit in 2022. She penned the exquisite "Perfectly Loved" with ace songwriter Ethan Hulse and fellow artist Andrew Ripp. There's not one person on earth who doesn't need to be reminded that they are fully loved just as they are, and Lampa's original offering does this in artful fashion. The songstress' angelic vocals wrap around poetic lyrics for one of the year's most beautifully-written singles from a voice that's been deeply missed. It also doesn't hurt that Lampa enlisted one of her dear friends, TobyMac, to lend his voice to the track that yields this palpable truth: There's never been a moment that you were not perfectly loved.
RELATED CONTENT: Rachael Lampa Returns to Radio for the First Time in Nearly Two Decades with TobyMac-Assisted "Perfectly Loved"
---
Q
"Quarantine Life"
Matthew West makes his appearance on our list with his epic pandemic parody, "Quarantine Life." While we were all not-so-busy at home, West kept busy by doing what he does best — writing stories culled from real life. The two-time K-LOVE Fan Award winner managed to deftly capture the essence of stay-at-home orders as he bemoaned his empty calendar, scoured empty shelves for toilet paper and shared the infinite benefits of Clorox wipes. A real-as-it-gets video filmed at his home in Nashville alongside his wife and two daughters was the cherry on top, giving us all an accurate, relatable and hilarious visual for what we were collectively experiencing. After initially releasing the song on its own, the singer included "Quarantine Life" on his deluxe edition of "Brand New."
---
R
"Reckless Love"
Few were familiar with the name Cory Asbury pre-"Reckless Love." However, the song altered the trajectory of Asbury's career and changed the way we look at God's unbridled love for His children. The lead single from Asbury's second studio release of the same name, "Reckless Love" became his first career No. 1 and garnered the relatively-unknown worship leader a GRAMMY® nod and a Billboard Music Award nomination. In addition, "Reckless Love" won Song of the Year and Worship Song of the Year honors at the 49th annual GMA Dove Awards. Asbury also performed the meaningful ballad alongside Francesca Battistelli at the K-LOVE Fan Awards, where the song took home two trophies in 2018. A fresh version of the career-defining hit released at the top of 2020, featuring pop songstress Tori Kelly, in support of Asbury's first devotional titled "Reckless Love: A 40-Day Journey Into the Overwhelming, Never-Ending Love of God." The often misunderstood, and sometimes controversial, song is still sung in churches all around the world.
---
S
"Scars in Heaven"
Making a recurring appearance as we count down our Alphabet of Songs, Casting Crowns returns with "Scars in Heaven," a tender ballad of grief penned by lead singer Mark Hall and Matthew West. The group performed the song for the first time at the 2021 K-LOVE Fan Awards. Hall began writing the single's poignant lyrics after watching his mother care for his ailing grandparents. Appropriately part of Casting Crowns' latest full-length collection, "Healer," the song paints a beautiful picture of heaven — the one place that holds true healing in the nail-scarred hands of the one true Healer. "My [daughter] is so excited that 'Scars in Heaven' won. We called in yesterday and spoke with you. It was her choice. This song means so much to both of us. Her daddy died when she was 19-months-old, and then we lost my brother two years and a week later, my mom 11 months later, and my uncle who was like my second dad (and second granddad to her) seven months later," shares K-LOVE listener Ashley who voted for the track. "We may cry sometimes when we hear this song, but it's so comforting at the same time."
---
T
"There Was Jesus"
"There Was Jesus" marks Zach Williams' third and final entry on our alphabetical list. The Platinum-certified song boasts country queen Dolly Parton, who is also featured in the official music video. Appearing on Williams' sophomore LP, "Rescue Story," "There Was Jesus" garnered the Arkansas native his second GRAMMY® Award, as well as a performance slot alongside Parton on the CMA Awards. Most recently, the hitmaker once again teamed up with the legendary artist to perform the moving duet for her 2022 original holiday television special, "Dolly Parton's Mountain Magic Christmas."
---
U
"Until Grace"
The third single from Tauren Wells' second studio album, "Citizen of Heaven," "Until Grace" is the duet we didn't know we needed. For the power ballad, Wells recruited former Rascal Flatts frontman Gary LeVox. While LeVox is relatively new to the Christian space, the outspoken believer's voice is familiar to longtime country music fans who have followed his beloved band and their many years of hits, including "Bless The Broken Road," "What Hurts The Most" and "I Like The Sound of That," among many others. The soulful song rings true for both men as it carries a story of transformation made possible by God's grace.
RELATED CONTENT: Tauren Wells Teams Up With Musical Hero Gary LeVox of Rascal Flatts for "Until Grace"
---
V
"Voice of Truth"
"Voice of Truth" was one of Casting Crowns' earliest songs and the third single to release from their 2003 self-titled debut. Co-written by frontman Mark Hall and Steven Curtis Chapman, the song references the biblical accounts of Peter walking on water and David defeating Goliath. The Platinum single points to the only voice we need to hear, the one that tells us a different story. "Voice of Truth" was featured in faith-based film "Facing the Giants" and earned Casting Crowns a Dove Award for Inspirational Recorded Song of the Year. It was one of several preliminary songs that formed a solid foundation for the band's extraordinary career.
---
W
"Waymaker"
"Waymaker" has literally made its way around the world. The oft-sung worship anthem was written by Nigerian gospel singer Sinach, who first released her own version of the song in 2015. The song has since been covered by numerous artists, including Mandisa, Leeland and Passion, among others. The most well-known rendition, however, was recorded by Christian music icon Michael W. Smith for 2019's "Awaken: The Surrounded Experience." The live album was captured at Nashville's Bridgestone Arena at an in-person gathering uniting believers from multiple denominations. The award-winning artist invited female vocalists Vanessa Campagna and Madelyn Berry to join him on the song, which earned Smith his first K-LOVE Fan Award in 2021.
---
Y
"You Say"
Rounding out our list and carrying the weight of the last three letters ('X,' 'Y' and 'Z') of the alphabet is "You Say," arguably the biggest Christian song of the last five years. Lauren Daigle penned the juggernaut of a single with the help of her frequent collaborators, Jason Ingram and Paul Mabury. The song smashed nearly every record held by its predecessors and crowned multiple radio charts. "You Say" even crossed over, making major waves at Top 40 radio and enabling Daigle to perform the career-defining single on "Good Morning America," "Jimmy Kimmel Live," the 2019 "Billboard Music Awards" and the Season 19 finale of "The Voice." A GRAMMY®, a Billboard Music Award and a GMA Dove Award followed. A song about identity, "You Say" possesses an undeniable universal appeal with an unforgettable opening line: "I keep fighting voices in my mind that say I'm not enough. Every single lie that tells me I will never measure up." The now five-time Platinum song served as the lead single for Daigle's acclaimed sophomore album, "Look Up Child," and the centerpiece of her world tour.